SCAPEGOAT - the extraordinary legal proceedings following the 1917 Halifax Explosion is a self published monograph by Joel Zemel. Books can be purchased directly from the author. The book is housed at the Law Library at Osgoode Hall Law School, York University, the Nova Scotia Archives, the Maritime Museum of the Atlantic and several libraries in Canada. Copies for borrowing and reference can be found at Halifax Public Libraries throughout HRM. Bibliography: a list of reference material used during research for the book. See "Scapegoat Summary" at the bottom of the page.

Joel Zemel's name is included on the List of Professional Researchers at the HRM Municipal Archives website. (top of page)


| | |
| --- | --- |
| | The Anatomy Of A Disaster - the evolution of a year's research by Joel Zemel and Pierre Richard that aimed to debunk the myths and correct numerous misconceptions surrounding photographs depicting the Halifax Explosion blast cloud. (top of page) |
| | |
| --- | --- |
| | A 1958 article from the Atlantic Advocate, "Day of Disaster" by H. B. Jefferson. Surprisingly enough, the premise of this article was based on a typing error in the Wreck Commissioner's Inquiry transcripts. Commander Wyatt's crucial third letter to Captain Superintendent Edward H. Martin was written on 15 September 1917, not 1915. Notwithstanding, the piece is well-written, informative and reads like a summary of The Town That Died; Michael J. Bird's groundbreaking book released just four years later. A biography of H. B. Jefferson from the Public Archives of Nova Scotia (PANS) website. (top of page) |
| | |
| --- | --- |
| | A visual methodology by Joel Zemel regarding a Photoshop experiment to enhance a photograph of Captain Haakon From found by Norwegian journalist, Kjetil Saugestad, in a 1917 edition of Sandefjord Blad. (top of page) |
| | |
| --- | --- |
| | "Anonymous" article entitled "Halifax Explosion" by Rear Admiral Bertram Mordaunt Chambers, the Royal Navy's port convoy officer, in which he vividly describes his experiences and the condition of Halifax Harbour on the morning and afternoon of 6 December 1917. From the Naval Review (1920) Vol. VIII, No. 3, pp. 445-457. Retrieved from The Naval Review website. (top of page) |
| | |
| --- | --- |
| | SS Mont Blanc crew manifest, 9 November 1917. The officers and men listed here were the exact same that left for Halifax on 1 December. SS Imo crew manifest, 2 August 1917. Both manifests were retrieved from the Ellis Island Datadase website. (top of page) |
| | |
| --- | --- |
| | An article in the National Post on the deconstruction of Halifax's Ground Zero and the blighting of the view from Needham Park. (top of page) |
| | |
| --- | --- |
| | "The Persecution of Pilot Mackey" by Janet Maybee - an article first published in the Northern Mariner / le marin du nord; Apr., 2010, Vol. XX Issue 2, p. 149-173. © Janet Maybee (used with permission). Segment of an interview (RT - 6:45) with 86 year-old Francis Mackey conducted by Bob Cadman. Originally aired in 1958 on CBC Radio. (top of page) |
| | |
| --- | --- |
| | The decision delivered by Justice Drysdale at the Wreck Commissioner's Inquiry, 4 February 1918. In the Exchequer Court of Canada, Nova Scotia Admiralty District, "Claim vs. Imo" and "Counter-claim vs. the Mont Blanc, decision of Mr. Justice Drysdale (1918), (Appeals Book: Imo vs. Mont Blanc, Vol. 1). (top of page) |
| | |
| --- | --- |
| | Justice Benjamin Russell's reflections on the cases which were brought before him in 1918; from his autobiography, The Autobiography of Benjamin Russell (Halifax, N.S., Royal Print & Litho, 1932)). (top of page) |
| | |
| --- | --- |
| | "Mont Blanc vs. Imo" - Reasons for Judgment and the decision of the Supreme Court of Canada (19 May 1919), (Appeals Book: Imo vs. Mont Blanc, Vol. 1) (Photograph: Chief Justice Sir Louis Davies). (top of page) |
| | |
| --- | --- |
| | "Imo vs. Mont Blanc" - Reasons for Judgment and the decision of the Judicial Committee of the Privy Council (22 March 1920), can be found online at the British and Irish Legal Information Institute website (Photograph: Lord John Atkinson). (top of page) |
| | |
| --- | --- |
| | Walter G. MacLaughlan - A brief biography of the photographer and filmmaker whose work remains a definitive study of the devastation following the Halifax Explosion. (top of page) |
| | |
| --- | --- |
| | The Revised Statutes of Canada, 1906, proclaimed and published under the authority of the act 3 Edward VII., chap. 61 (1903) (1906). Volumes 1-4 can be found online at the Archive.org website. (top of page) |

A catalogue of photographs, showing the aftermath of the Halifax Explosion. The images, housed at the State Library of Massachusetts, are by Halifax photographers, Walter G. MacLaughlin, Gauvin & Gentzel and others.

Follow this link to large thumbnails and photos on the State Library's Flickr photostream. (top of page)


| | |
| --- | --- |
| | "A Vision of Regeneration: Reconstruction after the Explosion, 1917-1921" by Garry D. Shutlak, Senior Archivist, PANS - an article featured in Ground Zero, A Reassessment of the 1917 Explosion in Halifax Harbour (Ruffman A. & Howell, C., Ed., first published by Nimbus [© Copyright 1994, Gorsebrook Research Institute]) pp. 421-426. © Garry D. Shutlak (used with permission). (top of page) |
| | |
| --- | --- |
| | "Thematic Guides / Halifax Explosion" - An important catalogue of archival references from Library and Archives Canada. (top of page) |
| | |
| --- | --- |
| | The Faces of the Halifax Explosion page asks the public for photograph submissions of naval and civilian personnel as well as assistance with the identification of Royal Naval College of Canada (RNCC) cadets and other members of classes from the First Term, 1911 to 1913. (top of page) |
| | |
| --- | --- |
| | Additional Information Related to the 1917 Halifax Explosion. This page contains photographs, maps of general interest as well as archived New York Times articles. (top of page) |
| | |
| --- | --- |
| | Debunking the 13 Mile Myth. This article discusses the myth's origins and endeavours to separate fact and fiction surrounding the location of the person who photographed one the most iconic images associated with the disaster. (top of page) |
| | |
| --- | --- |
| | Descriptions of the blast cloud in its various forms as well as photographs of numerous ships that were in the harbour on the day of the disaster. Many of these vessels can be cross-referenced with descriptions on the MMA website page, "Ships of the Halifax Explosion". (top of page) |
| | |
| --- | --- |
| | Interesting information about the Halifax Explosion is available from the Public Archives of Nova Scotia within their "Online Resources" section. (top of page) |
| | |
| --- | --- |
| | Halifax Explosion - The Manitoba Story - an article by author/historian, Michael Dupuis, on the residual effects of the disaster as news of the event initially filtered into Winnipeg and then to other parts of the province. (top of page) |
| | |
| --- | --- |
| | Photographs from the HMCS Niobe Collection. Several images from a series of postcards housed at Library and Archives Canada of the Diadem Class cruiser ca. 1914-1915 depicting daily navy life. (top of page) |
| | |
| --- | --- |
| | Tracking the Elusive HMC Dockyard Observatory - an investigation into the history of the structure and some of the modern misconceptions surrounding its location and identity. (top of page) |

"Historical Distortions and Errors in the Film Shattered City" - In 2003, the then curator of the Maritime Museum of the Atlantic, Dan Conlin, wrote a small piece on his website as a response to the gross historical inaccuracies contained within this two-part television presentation. Although admittedly, the look, sets and acting were quite good in this film, the utter disregard of the facts by an irresponsible screenwriter were inexcusable. The resultant fabrication was, in and of itself, a disaster of epic proportions and a completely botched opportunity to present a Canadian event of national and international importance in a dignified, truthful manner.

The list of historical inaccuracies is virtually unending. However, Dan Conlin touches on four of the most egregious ones. With the approach of the centenary of the Halifax Explosion, people interested in history and especially impressionable school children are reminded stay as far away as possible from this turkey of a film.

And we thought John Wayne as Genghis Khan was as far as one could go when stretching the fabric of believability. (top of page)



"The Prinz Adalbert Iceberg: the iceberg that did not sink the Titanic" - An article by Brian Hill, Alan Ruffman and Rolf-Werner Baak that convincingly debunks the notion that the iceberg spotted on 16 April 1912, and purportedly photographed by the chief steward, M. Linoenewald, of the German steamship, SS Prinz Adalbert, was the same iceberg that sank RMS Titanic. The photograph was accompanied by a statement signed by chief steward, the cook and two other stewards. Although the research was successful, the written statement by the chief steward was unknown to the authors at the time the article was published.

This article originally appeared in the December 2013 issue of the Journal of the British Titanic Society, Atlantic Daily Bulletin, pp. 24-32. (top of page)


| | |
| --- | --- |
| | Quality colour plates of the City Atlas of Halifax, Nova Scotia, 1878 can be accessed at Library and Archives Canada website. (top of page) |
| | |
| --- | --- |
| | The place of collision between Mont Blanc and Imo is marked by the letter "H" within a circle on the chart, Exhibit MBR/3. This position was noted by Captain Aime le Medec in his testimony on the first day of the inquiry. The location is approximately in mid-channel and slightly above Pier 6. (top of page) |
| | |
| --- | --- |
| | A collection of aerial photographs from the first government flyover of Halifax in 1921. View a collage of all of the photos here (top of page) |
| | |
| --- | --- |
| | A 1957 redevelopment study compiled for the city of Halifax, Nova Scotia authored by Gordon Stephenson. (top of page) |
| | |
| --- | --- |
| | A Mi'kmaq Declaration of War? Pierre Maillard's Letters to Edward Cornwallis and Du Fau, 1749. A letter written by Abbe Maillard in French on behalf of the Mi'kmaq at Port Toulouse, dated 23 September 1749, was sent to the governor of Nova Scotia to express concerns regarding the colonization of their lands. The other, containing a Mi'kmaq translation and additional content, dated 8 October 1749 was sent to Abbe Du Fau in Paris. (top of page) |
***
President Donald Trump has said and done many outrageous things as president of the U. S. but reversing a ban on importing the remains of so-called "legally" killed elephants from Zimbabwe and Zambia as trophies is a counter-productive, all-time low for Trump and his administration. Read the article.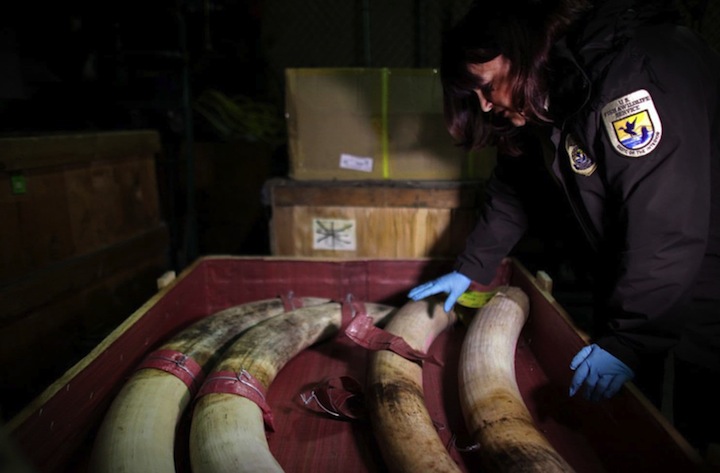 All text and images Copyright © 1999 - 2017 SVP Productions.
All rights reserved.