Charlie Christian is, arguably, the most influential jazz guitarist of all. For biographical information, visit
Jazz Guitarist Charlie Christian
. View the guitar made famous by Charlie Christian, the
Gibson ES 150
. (Photo from "Gibson Electrics" by Andre Duchossoir ©1981).
"I don't look at it as playing a guitar. I try to make my guitar sound like I think a saxophone should."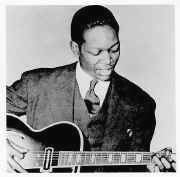 Top of Page
One of the formidable players from the 40s is a woman named Mary Osborne. Unfortunately, she is not a well known guitarist but could swing with the best of them. Read her
obituary
in the New York Times.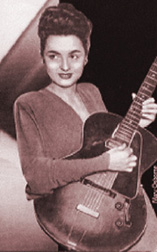 Top of Page
There wouldn't be enough room on the page to talk about the great gypsy guitarist, Django Reinhardt. Just go to this biography:
http://www.redhotjazz.com/django.html
posted by Joseph Dinkins (contains soundclips). This French website,
about-django.com
, has video clips of Django and The Quintet of The Hot Club of France as well as outstanding proponents of Django's style.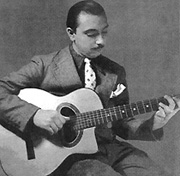 Learn about the
Selmer (Maccaferri) guitars
that were made famous by Django Reinhardt.
This CD features Django's later work: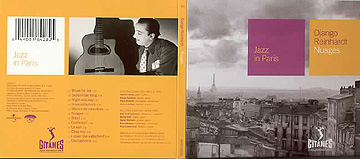 Top of Page
There were many accomplished jazz guitarists in the 1920s and 30s. Two of the outstanding players were New Orleans based
Snoozer Quinn
and his successor in The Paul Whiteman Orchestra,
Eddie Lang
who also had a duo with violinist, Joe Venuti.
Please visit this
website
devoted to Snoozer Quinn.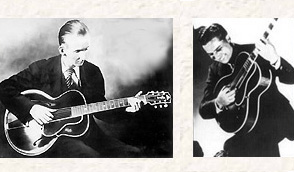 Top of Page
Two pre-eminent soloists were
Carl Kress and Dick McDonough
.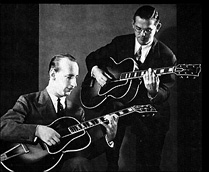 Top of Page
Blind Arthur Blake was a blues musician from the 1920s who influenced many guitar players both blues and jazz alike. His playing style was unique, interesting and quite sophisticated. There isn't much known about him but his recordings were plentiful and are still available. Click
here
for a brief biography. Download free mp3s by Blind Blake at
www.publicdomain4u.com
. In his short but prolific career he managed to record
110 complete published sides
.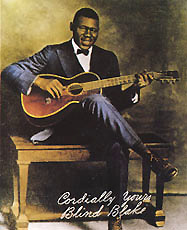 Not to get too far off the topic of jazz but when I was a kid just starting to play the guitar, one of my biggest influences and favorite players was
Doc Watson
, a first-class acoustic flat picker and exponent of country blues and bluegrass. I'm sure there are many jazz players out there who were, and still are, avid listeners of his music.